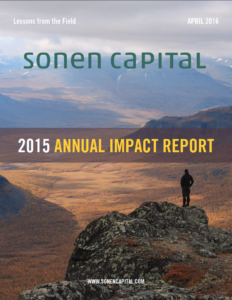 7 April 2016, San Francisco – Sonen Capital has published the first of its kind report that directly links investment strategies to the United Nations Sustainable Development Goals (SDGs). Sonen's globally focused public equity, fixed income and real assets portfolios aim to deliver competitive financial returns while supporting several specific SDGs including climate change, clean energy, water and sanitation, sustainable cities, sustainable timber and green real estate.
This report arrives at a time when many traditional firms are developing their own sustainable investment strategies. According to US SIF, for the period from 1995 to 2014, sustainable and responsible investing grew over 900%, representing approximately $6.57 trillion in assets. By seeking to generate competitive investment returns and positive social and environmental outcomes, impact investing is one of the fastest growing segments in the financial services industry.
The UN Agenda, adopted in September of 2015, includes 17 SDGs designed to transition the world's economy and ecosystem to full sustainability by 2030. "In 2015, we saw an historic turning point in the efforts to achieve a better future for all through the UN's Sustainable Development Goals. We believe capital markets can and should play a role in achieving these goals," said Raul Pomares, Founder of Sonen Capital. "We believe that investment capital can help address the world's biggest challenges with innovative investments that can be measured for financial performance, and social and environmental outcomes."
Compared to the MSCI ACWI index, Sonen reported that its public equity strategy exhibited significantly lower carbon emissions (85% lower), greater water efficiency (78% lower water use) and greater gender diversity (38% more women on corporate boards). Similarly, the fixed income strategy underwrote significant activities in energy use and efficiency, water infrastructure and technologies, and affordable housing. Finally, Sonen reports that investment in its global sustainable real assets strategy has helped:
Create the United States' first net zero city via large, utility-scale solar installations;
Acquire more than 135,000 acres for sustainable forestry management;
Provide nearly 540,000 people in the US and Africa with sustainable, clean energy; and
Provide more than 1,200 units of sustainable, energy efficient workforce housing in South Africa.