By Abby Shultz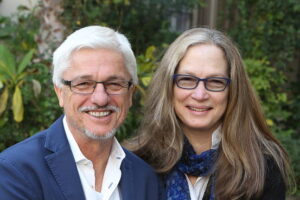 The KL Felicitas Foundation, founded by impact investing pioneers Charly and Lisa Kleissner, has opened the books on its investments to show that a strategy aimed at doing good can live up to its social and environmental objectives as well as deliver returns.
In a report published in late April titled "In Pursuit of Deep Impact and Market-Rate Returns: KL Felicitas Foundation's Journey," the Kleissners attempt to lay bare their thinking as well as their investments. The idea is to remove any mystery over how impact investing is done and, to show how it makes a difference.
Another aim is to demonstrate that any fund, no matter the size, can measure the on-the-ground impact of their investments as well as the financial returns. The point is to create an impact measurement framework that can, and hopefully will be used by any investor, whether an individual, small foundation, or giant pension fund.
"If everyone uses it, then we can compare notes," Charly Kleissner says.
The KLF Foundation's portfolio, which is run by the San Francisco-based impact investment management firm Sonen Capital, had US$9.5 million in assets as of Dec. 31, 2016. The report was written by Sonen Capital and New Philanthropy Capital, or NPC, a London think tank that has been working alongside Sonen for three years to understand the impact of the foundation's investments, using an "impact risk classification" tool that has allowed the foundation to improve the impact of its investments.
The Kleissners are revealing Sonen and NPC's analysis as part of a drive toward transparency in the field, an approach they believe will accelerate change. The couple is also the force behind Toniic, a network of impact investors, about two-thirds of whom have pledged to run a 100% impact investing portfolio.
This 100% impact group has about US$6 billion in assets in portfolios ranging in size from US$3 million to US$1 billion, all of whom have agreed to share their financial and impact results among themselves, and to have these results researched and reported on anonymously, Kleissner says.
"Deep Impact"
One of the Kleissners' larger goals—as the title of their foundation report implies—is to realize "deep impact" by creating social or environmental change through investments in funds as well as companies. Deep impact is a more activist approach than ESG, which is the more widely used strategy of investing in public stocks and bonds based on how well companies manage environmental, social, and governance matters.
Beartooth Capital Partners, which runs private real estate funds that protect and restore "ecologically important" ranch land while generating an investment return, is the kind of fund the KLF Foundation will invest in. The firm, based in Bozeman, Montana, has "restored 624 acres of wetlands and ponds and 18 miles of rivers and creeks," KLF reports.
The foundation dedicates about 2.5% of its portfolio, which is managed by the impact investment management firm Sonen Capital, to high-risk "impact first" investments that are intended to create a positive social and environmental impact above all else. The foundation intends for these investments to have a neutral effect on the portfolio, but from 2006-16, the impact-first investments, which have included some endeavors that failed, have posted a negative return of 2.46%, according to the report.
Excluding those investments, the KLF Foundation's investments returned 2.75%, net of fees, from 2006-16, besting a portfolio benchmark return of 2.38%. More importantly to the Kleissners, nearly 47% of the portfolio investments "contribute to solutions," meaning they address specific social and environmental challenges, while 14.5% "avoid harm" and nearly 39% meet the ESG-consistent goal of benefiting "people and planet," the report says.
"When you have this kind of information, you can compare notes with other impact investors," Kleissner says.
That analysis of the foundation's portfolio was conducted by the Impact Management Project, a protocol being developed by 700 impact investing professionals and facilitated by Bridges Fund Management's Bridges Impact+ team. The IMP methodology looks at each portfolio investment according to five dimensions: what, how much, who, contribution, and risk.
The report also shows how the foundation's investments address the United Nations sustainable development goals. An investment in BioLite, a New York company that makes energy-efficient cooking stoves for off-grid use, addresses goal No. 3, "good health and well-being" and goal No. 7, "affordable and clean energy." The stoves have offset more than 75,000 tons of carbon dioxide, and, thanks to investments by KLF and others, 20,000 households are now using the stoves, up from 4,000 in 2014.
The KLF Foundation's efforts are a start that could someday lead to a consistent means for investors to assess the impact of their investments—positive or negative—alongside financial performance. Even private companies produce financial statements for the guidance they can offer to managers and investors, says Brian Trelstad, a partner with Bridges Fund Management in Manhattan. The same kind of analysis should be applied to a company's social and environmental impact. As Trelstad says, "One of the big outcomes for this work would be a generally accepted impact statement."
Read the story on Barrons.