Recently, Sonen released its seventh annual impact report covering its Global Sustainable Real Assets (GSRA) strategy. While we typically release the reports to investors in the strategy, we believe the impact data, and the outcomes they pursue, are worth sharing with a wider audience. We believe the data present a compelling case for why real assets are essential to help accelerate the transition to a low-carbon economy, promote resource-use efficiency, and increase the stock of land and water under sustainable management.
Investing in real assets is designed to help investors increase portfolio diversification, may provide a low correlation to the broader markets in general, and may provide the potential to hedge inflation risk. Apart from these potential financial benefits, the GSRA strategy seeks to  create positive environmental impacts to help solve some of the world's most pressing challenges. The strategy makes investments that are intended to advance four key long-term environmental outcomes: Sustainability, Efficiency, Renewability, and Restoration. Together, these four outcomes are the foundation for which underlying investments for the GSRA strategy are considered, and Sonen's ongoing impact measurement evaluates the strategy's progress towards achieving these outcomes. Of the 21 specific impact indicators collected and aggregated annually, we present highlights from Clean Power, Green Real Estate, Sustainable Timber, Land and Water, and Environmental Infrastructure themes.
CLEAN POWER
Since inception in 2015, through 2021, GSRA's clean power investments have produced more than 5.9 million MWh of clean power. That's enough to clean power to provide energy for almost all the residents of Atlanta, Georgia for one year.
TOTAL ENERGY PRODUCED FROM RENEWABLE SOURCES
GREEN REAL ESTATE
As a result of property improvements, the strategy's green real estate investments have saved or conserved over 30.8 million kWh in 2021. That's the equivalent to avoiding emissions from burning over 24 million pounds of coal.
ENERGY SAVED OR CONSERVED FROM PROPERTY IMPROVEMENTS
SUSTAINABLE TIMBER
GSRA's investments in sustainable timber are intended to meet growing global demand for forest products, while protecting the ecological health of forests and considering local community interests. In 2021, over 17,000 acres of native trees were planted, larger than the size of the island of Manhattan.
TOTAL NATIVE TREE SPECIES PLANTED
LAND AND WATER RESOURCES
From 2016 through 2021, over 4 million acres of protected land have been established adjacent to timber properties since 2016, larger than the size of Connecticut. This land provides critical buffers for wildlife habitat and migration corridors. Sonen also tracks length of streams present, ecological restoration area and operational sustainability certifications.
AREA OF ADJACENT PROTECTED LAND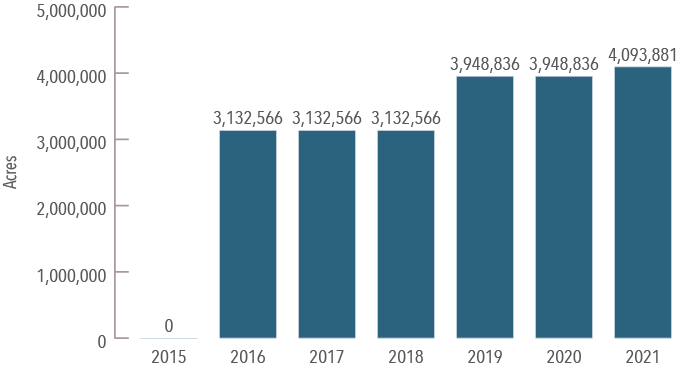 ENVIRONMENTAL INFRASTRUCTURE
In 2021, the strategy's environmental infrastructure investments delivered water to over 175,000 households, equivalent to half the size of Honolulu, Hawaii. GSRA data also includes volume of clean water provided through infrastructure upgrades and number of pipeline repairs. Data prior to 2018 does not exist as the strategy had no previous allocations to the environmental infrastructure theme.
TOTAL NUMBER OF CLIENTS SERVED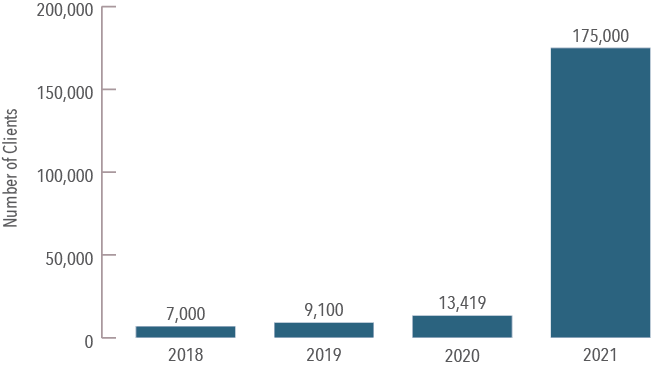 LIMITED PURPOSE OF THE REPORT
This document is provided for informational and educational purposes only. Any reference to a particular investment or portfolio company does not constitute a recommendation or an offer by Sonen Capital to buy, sell or hold such investment or security. This report does not constitute a solicitation or offer to provide any advice or services in any jurisdiction, including without limitation, any jurisdiction in which such a solicitation or offer is unlawful or to any person to whom it is unlawful. No Financial, Investment, Tax or Legal Advice: The information herein is not intended to provide, and should not be construed as, financial, investment, tax or legal advice. The information contained herein does not take into account the particular investment objectives or financial circumstances of any particular recipient, or whether or not any recommendation, investment, security or strategy described herein is suitable or appropriate for the reader's investment objectives and financial situation. Recipients of this report are strongly urged to consult with their own advisers regarding any potential strategy, investment or transaction. Past performance is not an indicator of future results.
THIRD-PARTY SOURCES
Sonen Capital has obtained certain information in this report from third-party sources that it believes to be reliable, but such information has not been independently verified and Sonen makes no representation as to its accuracy or completeness is made. Except as otherwise indicated, the information provided herein is based on matters as they exist as of fiscal year 2021 and not as of any future date. This presentation will not be updated or otherwise revised to reflect information that may become available, or based upon any change in circumstance occurring after the date that appears on the cover of this presentation.
COPYRIGHT NOTIFICATIONS
No part of this report may be reproduced except as authorized by written permission from Sonen Capital.
Copyright © 2022 Sonen Capital LLC. All rights reserved.