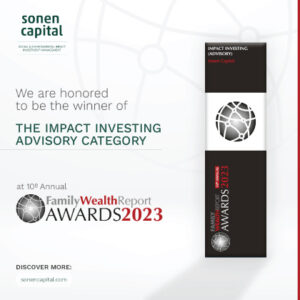 Sonen Honored with Impact Investing Advisory Award
Sonen Capital has been selected as the winner in the Best Impact Investing Advisory category at the Tenth Annual Family Wealth Report Awards 2023 program.
The annual Family Wealth Report Awards program recognizes the most innovative and exceptional firms, teams and individuals serving the family office, family wealth and trusted advisor communities in North America. Sonen Capital was selected for Best Impact Advisory category because, "the winner has been a 100% dedicated impact investment advisor and manager solely dedicated to mobilizing capital in response to issues faced by the world today."
Commenting on Sonen's win, Bob Goldstein, CEO of Sonen Capital said, "We are honored to receive this recognition from the Family Wealth Report, which is a testament to the hard work and dedication of our team at Sonen Capital. We are grateful to our clients and partners for entrusting us with their investments and sharing our vision for positive change."
Stephen Harris, ClearView Financial Media's CEO, and publisher of Family Wealth Report, was first to extend his congratulations to all winners and highly commended companies "Every category winner and highly commended firm has been subjected to a rigorous and independent judging process and should be rightly proud of the success they have achieved this year." A group of industry professionals with extensive knowledge and experience in the wealth management sector, including family offices, private banks, trusted advisors and consultants were responsible for overseeing the judging process of the Family Wealth Awards. The aim of the awards program is to highlight the outstanding performance in the North American wealth industry.