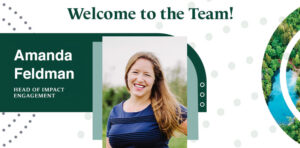 Amanda Feldman Joins Sonen Capital to Lead Impact Engagement
We are pleased to announce the appointment of Amanda Feldman as Sonen's new Head of Impact Engagement.
Ms. Feldman will lead Sonen Capital's overall impact engagement strategy and focus on clients' increased measurement and reporting objectives. Her experience as an industry expert working with clients to measure, manage, and maximize the impact of investments with asset owners, funds, policymakers, and entrepreneurs, highly aligns with these clients' needs.
Previously, Amanda co-founded the Impact Management Project, a sector-wide initiative to reach consensus on measuring, assessing, and reporting social and environmental impact. She was also Impact Director at Bridges Fund Management, a firm channeling private capital towards impactful enterprises, property, and social sector organizations. Prior to that she served as a Director at Volans, a think tank and advisory firm.
"As clients and the marketplace seek more sophisticated and advanced impact measurement and reporting, we're excited to have Amanda join the team to help us evolve our industry leading impact practice," said Sonen CEO, Bob Goldstein. "We anticipate she will make meaningful contributions to our clients' needs and the culture of excellence at the firm," he added.
Amanda's consulting work has ranged from working with the United Nations Development Program on managing impact disclosures on the Sustainable Development Goals, to leading G7 and G20 consultations, including her role as the Technical Lead on Harmonization, Transparency & Integrity for the 2021 G7 Impact Taskforce.
Ms. Feldman's arrival contributes to the fulfillment of Sonen's vision to be the trusted partner of choice for asset owners seeking investment solutions that address the world's most pressing challenges.