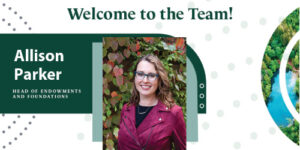 Allison Parker Joins Sonen Capital to Lead Endowment and Foundation Practice
We are pleased to announce the appointment of Allison Parker as the new head of our Endowment and Foundation practice.
Sonen Capital provides impact investment and advisory services to families, foundations, institutions and advisors. And, with over two decades of philanthropic advising and business development experience, Allison brings a wealth of knowledge and expertise working with institutions in active pursuit of social and environmental impact.
Prior to joining Sonen, Allison served as an advisor to numerous community foundations and individual donors, providing invaluable guidance through every step of the impact investing journey. Her particular focus has been on aligning flexible capital with under-resourced communities, making her a driving force behind positive social change.
Allison's career includes more than 16 years at the Seattle Foundation, where she spearheaded the development and launch of the Foundation's donor-advised impact investing program. Under her leadership, the team created over 40 new funds for the foundation and managed investments exceeding $150 million annually. Earlier in her career, Allison's entrepreneurial spirit and ability to mobilize capital for change earned her recognition as one of the Puget Sound Business Journal's "Forty Under 40" achievers.
"We expect Allison will continue to represent the best of Sonen Capital and bring her unique skills and perspectives to the firm." said Sonen CEO, Bob Goldstein. "Her commitment to community betterment and work with philanthropic organizations to transition to impact, are a natural alignment with our team, work and values," he added.
Allison Parker's arrival at Sonen Capital highlights the firm's ongoing focus to advance our strategic vision to be the trusted partner of choice for asset owners seeking investment solutions to address the world's most pressing challenges.