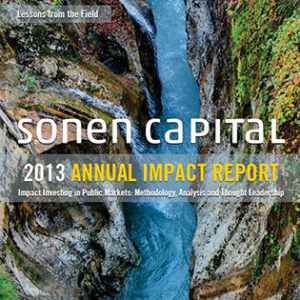 We are pleased to share with you the second report in Sonen's Lessons from the Field series, 2013 Annual Impact Report – Impact Investing in Public Markets: Methodology, Analysis and Thought Leadership. This report illustrates clearly and specifically, the quantitative and qualitative impact performance data on Sonen's public markets investment strategies.
Our goal is to show that investors can direct resources to create measurable, lasting and large-scale positive impact through a wide variety of investment approaches.
If you have previously downloaded Sonen content, click download and then click the 'Already Registered' link. All documents are FREE to download.