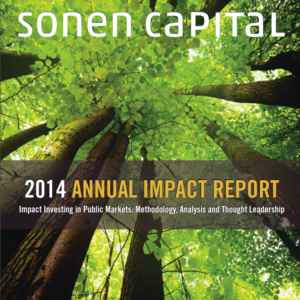 We are pleased to share with you our 2014 Annual Impact Report, the third report from Sonen's Lessons from the Field series.
This year's Report provides an analysis of the quantitative and qualitative impact performance of Sonen's public markets investment strategies. This impact report also details our increased shareholder engagement activities, as well as demonstrates improvements we have made to our impact measurement framework.
With an additional year of performance for these products since the 2013 Report, this impact report provides further evidence of the effectiveness of Sonen's investment approach to achieving competitive financial returns along with meaningful impact in the public markets. We are proud of our results, and are confident that in the coming years our process will continue to achieve outstanding results.
If you have previously downloaded Sonen content, click download and then click the 'Already Registered' link. All documents are FREE to download.