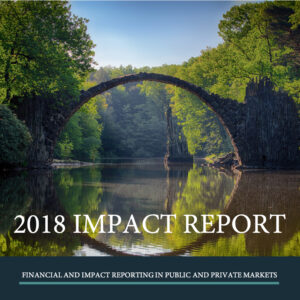 Sonen is delighted to share with you our sixth annual Impact Report.
The Report provides a meaningful and multidimensional view of the sustainability metrics and social and environmental impact of our four investment strategies.  
As in our previous reports, this year's Report measures and reports on the various social and environmental impacts generated by our strategies utilizing a number of different evaluation methodologies. In doing so, we employ a combination of ESG performance data, IRIS impact data, and the impact indicators suggested by the United Nations as part of their Sustainable Development Agenda.
We believe that the ESG characteristics and impact creation articulated in the Report strongly supports our view that competitive investment performance with meaningful impact creation are not only compatible, but also mutually reinforcing objectives.
Our intention for this Report is to bring to life the important work we do around deploying capital to address some of the world's most pressing social and environmental challenges.
If you have previously downloaded Sonen content, click download and then click the 'Already Registered' link. All documents are FREE to download.