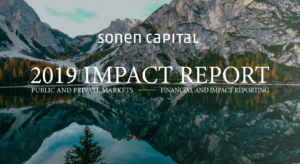 Sonen is pleased to share with you our 7th Annual Impact Report.
The report provides an in-depth and multidimensional view of the sustainability characteristics of our four investment strategies.
To measure and illustrate the multiple social and environmental impacts of our strategies, we use Environmental, Social and Governance data; the Impact Reporting and Investment Standards (IRIS);  the UN Sustainable Development Goals and proprietary internal impact frameworks.
If you have previously downloaded Sonen content, click download and then click the 'Already Registered' link. All documents are FREE to download.