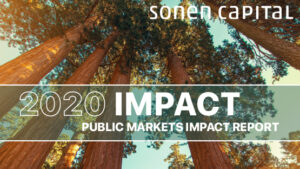 We are pleased to release our 8th Annual Impact Report, covering impact in our public markets fixed income and public equity strategies.
New to our analysis this year, we illustrate how our own internal impact frameworks align closely with the UN Sustainable Development Goals and lead to investments that are providing critical solutions to the challenges of climate change, resource use, and equitable economic development among others.
If you have previously downloaded Sonen content, click download and then click the 'Already Registered' link. All documents are FREE to download.