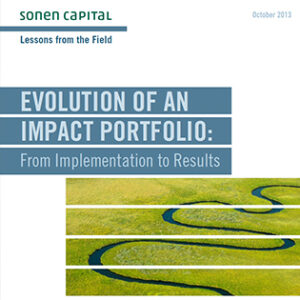 Sonen Capital, a leading Social & Environmental impact investment firm, in collaboration with the KL Felicitas Foundation (KLF), announced the launch of the first-of-its-kind report detailing the financial performance of an impact investing portfolio.
The report, titled Evolution of an Impact Portfolio: From Implementation to Results demonstrates to investors that impact investments can compete with, and at times outperform, traditional asset allocation strategies while pursuing meaningful and measurable social and environmental impact results.
Evolution of an Impact Portfolio is written for asset owners, advisors, and other intermediaries interested in learning more about building diversified impact portfolios anchored in rigorous financial analysis and ongoing assessments of factors affecting macroeconomic conditions.
If you have previously downloaded Sonen content, click download and then click the 'Already Registered' link. All documents are FREE to download.